Rev. John Williams Ab Ithel, M.A.
Llanymowddwy
Merionethshire





from the Rolls Series

*****

Preface
to the
Annales Cambriae

Published by:
Her Majesty's Stationary Office
London
1860






(The Annales Cambriae) ...is the oldest Chronicle of Welsh affairs that we possess. It is derived from three different copies, which, for the purpose of reference, we have distiguished respectively by the letters A, B, and C.
"A" is a manuscript in the Harleian Collection, No. 3859 on vellum, in octavo, of the latter part of the tenth or beginning of the eleventh century, inserted without title or introduction in the body of a manuscript of Nennius. It is followed immediately by the pedigree of Owain, son of Howel the Good, and his mother Elen, which gives us reason further for supposing the chronicle in question to have been originally compiled during the sway of that prince. Howel died AD 948, when his sons, four in number, Owain, Thun, Roderic, and Edwin, divided among them the kingdom of South Wales and Powys; North Wales being ruled over by Ieuav and Iago, sons of Idwal Voel. Between the two families there was a very severe struggle for the supremacy, and several bloody battles were fought with various results. Under these circumstances it was very natural that publicity should be given to Owain's regal claims, as genealogically derived through both his parents from the ancient monarchs of the land.
The officer whose province it was to keep a register of births, marriages, and deaths, was the bard, who being already in possession of a maintenance of five free acres of land in virtue of his profession, received, moreover, in consideration of this special act, a pecuniary fee according to the social position of the head of the household which he visited. As the bard was an officer of the court, it is but fair to suppose that the genealogist was Owain's own bard, one who enjoyed a more honourable post than fell to the lot of the itinerant Clerk; a supposition further corroborated by the knowledge of Latin which he evidently possessed.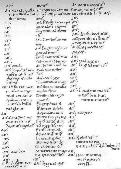 Click on picture for a larger image
---
[ Next: The Text of the Annales Cambriae ]
excerpt from the Medieval Sourcebook

with links to the full source document.